Welcome to Happy Spine
Top Chiropractors in Christchurch Since 2000
Bringing health to New Zealanders through quality chiropractic care is our passion at Happy Spine. With more than 26 years of service to the Christchurch and Riccarton communities, Chiropractor Dr Jim Miller and his team are here to help with your health concerns.
Customized Chiropractic Care
Our chiropractic techniques deliver safe, gentle adjustments to patients of all ages – even pregnant women and those who've previously had back surgery! We'll always choose the best technique to address your specific problem.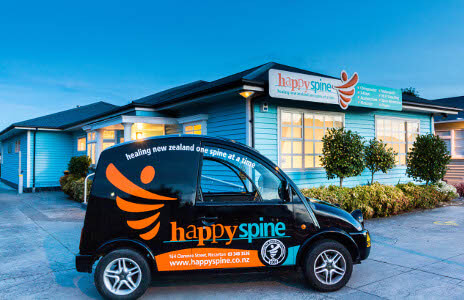 We're open 6 days a week to ensure that you're able to get the care you need when you need it.
Have a Happy Spine! Give us a call on 03 348 3536 or fill in the form below to schedule your first appointment!

Take Advantage Of Our New Patient Special Offer
Book Your Initial Consultation With Our Doctor of Chiropractic For Just $199
Includes Examination, X-Rays & Written Report Of Findings
Submit your details to book now

Chiropractor Christchurch | Happy Spine | 03 348 3536