Debbie Shaw, Technical Chiropractic Assistant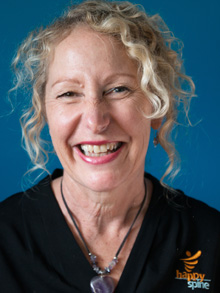 Deb became interested in working in the chiropractic field because she wanted to encourage and support people to help themselves through education and their commitment to wanting to feel better and move better.
Our body can heal itself when we give it the right support, tools and environment to heal in.
Deb is passionate about preventative healthcare and wellness. She loves to be a part of changing lives naturally.
Finding Fulfillment Helping Others
Deb enjoys people contact and interaction with both patients and the team at Happy Spine. "I love working in a friendly environment that is busy and rewarding." She also enjoys the opportunity to learn and extend her knowledge base. In 2017, Deb began her career as a Chiropractic Assistant in Nelson. At our practice, she looks forward to training as a Chiropractic Technical Assistant.
Hobbies & Interests
When she's not at the practice, Deb loves spending time with family and friends. She also enjoys walking, yoga and Pilates to stay strong and healthy. Deb loves good healthy local food. "I particularly enjoy the Riccarton Market to soak up the atmosphere and buy fresh ingredients to cook with."
Schedule an Appointment
Book an appointment today!
CONTACT US


Debbie Shaw | 03 348 3536