Dr Michael Blandy (Chiropractor)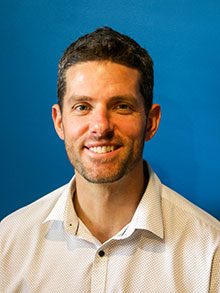 Dr Mike emigrated from South Africa in the early 2000's to study at the New Zealand College of Chiropractic, where he obtained his degree. Now, with more than 14 years of experience, he's thrilled to be offering focused, gentle and effective care to patients of all walks of life.
Dr Mike believes in taking a multifaceted approach with every patient he has the pleasure of helping. When you're in his care, he may combine traditional spinal adjustments with strength training exercises and soft tissue work to bring the best possible results.
In addition, Dr Mike holds a post-graduate certification in Applied Kinesiology, and is currently completing training in Chiropractic BioPhysics in order to provide his patients impeccable care.
Walking the Walk
Dr Mike believes in living a healthy, active life and has spinal "tune-ups" himself when needed. Having successfully recovered from a prolapsed disc in his lower back years ago, narrowly escaping surgery, he knows only too well how important it is to look after your spine.
"Since then, I've been privileged to be a four-time NZ triathlon team representative at World Championship events, completed Ironman triathlons, the Coast to Coast and volunteered for four years in a part time capacity with the military."
Outside of the Practice
When Dr Mike isn't helping patients in the practice, he enjoys spending time with his wife, Esthea, outdoors. On the weekends, you can find him in the Port Hills cycling, running, walking or enjoying the lovely view with a cup of coffee.
Learn More Today
Dr Blandy would love to welcome you into the practice. To learn more today, contact us to book an appointment-we can't wait to help you achieve your goals in health.

Dr Michael Blandy | 03 348 3536