Grace, Front Desk Chiropractic Assistant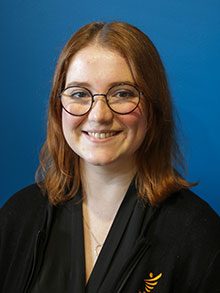 Having grown up in a chiropractic family, Grace felt inspired to study osteopathy during the pandemic.
I decided with everything that went on with COVID, lockdowns, and online learning I wanted a gap year to clear my head and find my passion."
And so she did! Working at Happy Spine has been highly fulfilling for Grace. She loves seeing people start chiropractic care and experience results. "Sometimes it happens quickly and sometimes it takes longer, and usually when that's happening they seem to be creating a better, more balanced life."
Grace looks forward to helping people of all ages to get great results. "I see my position like the guy in 'The Matrix' making it all happen calmly, with laughter and going home at the end of the day knowing I've helped my team and our community of patients."
A Love of Learning
Grace graduated from Cashmere High School with high marks and loves learning, and has received her advanced certification in CPR from the Red Cross.
Just as Grace is passionate about self-improvement, she has considerable empathy for people working to be the best version of themselves. "I am a keen advocate for people living better and enjoying life."
Her favourite activities outside the practice include going to the gym and reading heaps. Grace also loves spending time with her cat.
Book an Appointment
Contact us today to schedule an appointment!

Grace | 03 348 3536